NOVOS LINKS!
Eis aqui os discos da melhor fase do Rainbow, quando Ronnie James Dio pilotava os microfones.
Ritche Blackmore's Rainbow (1975)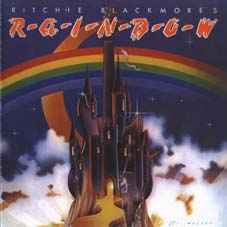 Este aqui, na verdade, merecia se chamar
Ritchie Blackmore's Elf
. Pois, ao sair do Deep Purple, Ricardinho Mais Preto, em vez de formar uma banda, pegou uma prontinha: o Elf, grupo que abrira para o Purple na excursão de
Stormbringer
. Com Ronnie James Dio no vocal, Mickey Lee Soule nos teclados, Craig Grouber no baixo e Gary Driscoll na bateria, Blackmore fez um disco bem diferente do trabalho do Deep Purple, com uma influência maior de música clássica, o que combinou muito bem com as letras "Dungeons & Dragons" de Dio.
É um daqueles discos que só poderiam ser feitos nos anos 70, com cada música diferente da anterior e nenhum pudor em tocar bem. Há uma curiosidade: a última faixa é uma versão instrumental "fuderosa" para uma canção dos Yardbirds. Conta a lenda que, quando o cronograma da gravação já estava todo estourado e só faltava botar os vocais nesta faixa, Dio teve um problema e não apareceu para gravar. Blackmore entrou no estúdio e fez com a guitarra a linha do vocal. Se é verdade eu não sei, mas ao vivo ela era cantada com letra e tudo.
1. Man On The Silver Mountain
2. Self Portrait
3. Black Sheep Of The Family
4. Catch The Rainbow
5. Snake Charmer
6. The Temple Of The King
7. If You Don't Like Rock 'N' Roll
8. Sixteenth Century Greensleeves
9. Still I'm Sad
Download
Rising (1976)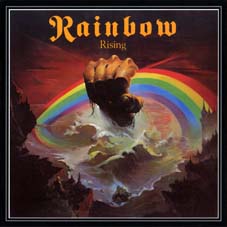 Nem bem lançou o primeiro disco, Blackmore deu um pé na bunda de todos os músicos do Rainbow, menos Dio, e montou aquela que considero a melhor formação da banda: Cozy Powell na bateria, Jimi Bain no baixo e Tony Carey nos teclados. O resultado, no ano seguinte, foi
Rising
, um disco cujo único defeito é ser curto. Da baita introdução de teclado de "Tarot Woman" ao finalzão de "A Light In The Black", tudo é perfeito. Mas nada se compara à obra máxima da banda: "Stargazer". É o metal setentista em seu melhor momento: Powell dando uma aula de bateria com o apoio do baixo sempre seguro de Bain; Carey combinando seus teclados com uma orquestra para formar uma parede de som sobre a qual Blackmore mandou um
riff
e talvez o seu solo de estúdio mais elaborado. Para coroar, Dio cantando com convicção uma boa letra mística.
Distinto, se você nunca ouviu "Stargazer", não sabe o que é rock pesado.
1. Tarot Woman
2. Run With The Wolf
3. Starstruck
4. Do You Close Your Eyes
5. Stargazer
6. A Light In The Black
Download
On Stage (1976)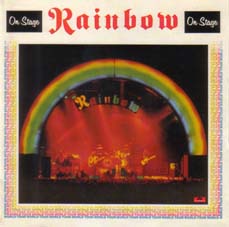 Confesso que tenho sentimentos dúbios em relação a este disco, registro ao vivo da excursão de
Rising
. Em si, ele é um disco ao vivo dos melhores que já ouvi, com a banda quicando nos cascos. O problema é que, embora só tenha músicas excelentes (e a idéia de botar Dio cantando "Mistreated" foi genial), ele acabou deixando de fora justamente "Stargazer", que fazia parte do
set list
daqueles shows. Por outro lado, é interessante ver como eles apresentaram ao público "Kill The King", que só seria gravada no disco seguinte.
Ah, aqui no Brasil, esse disco foi objeto de uma dais mais constrangedoras cagadas já feitas por uma gravadora. O que era um álbum duplo virou um LP simples. Cortaram uma música de cada disco, tiraram a parte de dentro da capa e mandaram para as lojas. Tremenda falta de respeito.
1. Kill The King (live)
2. Medley: Man On The Silver Mountain/Blues/Starstruck (live)
3. Catch The Rainbow (live)
4. Mistreated (live)
5. Sixteenth Century Greensleeves (live)
6. Still I'm Sad (live)
Download
Long Live Rock'n'Roll (1978)
Novo disco, novos músicos. Aliás, vale lembrar que o Rainbow jamais gravou dois discos de estúdio com a mesma formação. Desta vez dançaram Bain e Carey. Para os teclados, Blackmore chamou David Stone, um músico de estúdio. Já o baixo foi um problema, o que obrigou o guitarrista a fazer as vezes de baixista em cinco das oito faixas, até a chegada de Bob Daisley.
A melhor resenha que já vi deste disco foi feita, acreditem, por Yngwie Malmsteen nos comentários de
Inspiration
, seu ótimo disco de
covers
(qualquer dia eu boto aqui). Ele conta que ao começar a ouvir o disco, ficou um a sensação de que o Rainbow pisara na bola. A faixa-título e as duas músicas seguintes eram bem óbvias, sem sombra da criatividade do grupo. Mas eis que chega, no fim do Lado A (somos velhos, eu e Yngwie), e dá-se de cara com "Gates Of Babylon", uma das melhores músicas do grupo. "Kill The King", que já dera o ar da graça em
On Stage
, e a belíssima "Rainbow Eyes" ajudam a salvar o disco, que marcou a saída de Dio em direção ao Black Sabbath.
Para o Rainbow, daí em diante, seria só ladeira abaixo.
1. Long Live Rock 'N' Roll
2. Lady Of The Lake
3. L.A. Connection
4. Gates Of Babylon
5. Kill The King
6. The Shed (Subtle)
7. Sensitive To Light
8. Rainbow Eyes
Download